Back
Leadership Team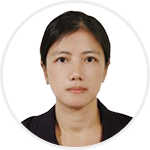 KL, Yee
Senior Consultant
KL Yee's expertise lies in Pricing and Profitability assessments, as well as benefit quantifications of such assessments. She has experience in conducting Customer Strategy projects, performing customer segmentations, cost to serve analysis and designing value based offerings.
KL also has extensive experience in supply chain management, having done supply chain assessment projects for the chemicals and cement industry. Her work also included supply chain business process design, software tools analysis and roll out of a supply chain education programme.
KL holds a Masters of Engineering and has a PhD in Operations Research. Prior to Smart Tradzt corporation, KL held consulting positions in Accenture and Deloitte Consulting and led the Strategy department in Lafarge Malayan Cement. She worked in Exxon Mobil Singapore before joining the consulting industry.
KL led assessments for the Sales, Marketing and Pricing capabilities and also did Customer Strategy project for a regional petrochemical company. She also conducted supply chain assessments and workshops to help her client set up the supply chain implementation.
Her relevant clients include Petro Rabigh, The Polyolefin Company, Akzo Nobel, Ranbaxy Pharmaceutical, Siam Cement Group, Dupont and PETRONAS.