Skip to content
Smart Tradzt Shipping Policy
Domestic Shipping Policy
All orders are processed within the same day or next day. Orders placed over the weekend are dispatched on Monday or the first working day after. (Working days exclude Saturdays, Sundays and public holidays). Please note, we are currently only able to ship to Klang Valley, Penang, Johor Bahru, Kelantan, Kedah, and Perlis.
Free Shipping
We offer FREE shipping on all orders with a minimum order of 10kg for 50km radius from the fishermen jetties in Kelantan, Kedah, and Perlis.
Shipping rates and delivery estimates
Customize the following: Shipping charges for your order will be calculated and displayed at checkout.
Order
Delivery Service
Estimated Delivery Time
Cost
Order time 6-12am
Order time before 5pm
10kg
Jetty purchase for local delivery (30km radius)
Same Business day
Next Business day
Free
10kg
Jetty purchase for outstation delivery (Klang Valley)
Next Business day
Free
10kg
PNK Shop
Same Business day (Local)
Next Business day (Incl. outstation)
Free
Shipping Date and CutOff Times
Delivery 1: Wednesday 5:30pm - 6:30pm
Cutoff: Tuesday 11am
Delivery 2: Saturday 8:30am - 9:30am
Cutoff: Friday 10am
Shipment to addresses
BSP Skypark, Jalan SPU 1, Bandar Saujana Putra, 42610 Jenjarom, Selangor
BSP 21, Jalan SPU 1, Bandar Saujana Putra, 42610 Jenjarom, Selangor
Shipment confirmation and order tracking
The Marketplace provides order status tracking from the order confirmation until arrival
Returns And Refunds Policy
Perishable items (vegetables, fishery, poultry, meat and fruits products) are not returnable, but may be refunded under the following circumstances, if reported within 2 hours after receiving:

Damaged upon delivery
Defective/Damaged packing
Quantity delivered less than purchased (Refund may be partial)
Delivery of wrong items

Proof of claims need to be substantiated by submitting photos/videos of such claim. Please save all packaging material and damaged goods before filing a claim.
Exchange or return of perishable Product is subject to final approval by AGRO TRADZT. Customers may choose to return the Product and request for a refund in accordance to this Terms and Conditions based on the following criteria:

Buyers did not receive the Product Ordered within the date and time provided to us;
Buyers received an incomplete order (with missing quantity or items attached to the order);
Buyers received the wrong Product(s) (e.g., wrong specifications, wrong quantity, different product);
Buyers received a Product with physical damage/defects prior to buyers receiving the items into buyers' facility.

In the event the Customer is unable to accept the delivery of a Product (as applicable), the said Customer shall contact AGRO TRADZT at the very soonest and arrange with AGRO TRADZT for an alternate delivery date (as applicable). In the event of failure by the Customer to contact AGRO TRADZT for non-acceptance of delivery by the Customer of which the Product is ready for delivery by the Customer, the Order may be deemed delivered and AGRO TRADZT reserves the right to forfeit any amounts paid for and towards the Product.
Should buyers be eligible for a refund pursuant to the Terms and Conditions set out herein, please contact AGRO TRADZT to request for a refund. In the event a refund is approved by AGRO TRADZT, the refund will be processed in the payment method associated with buyers' Business Account which was originally used to complete buyers' order.
Buyers shall be responsible for any cost arising due to the return or cancellation of Products set out herein (which shall include but is not limited to postal, shipping or handling fee). We will not accept items that have been damaged due to abuse, misuse, accidents or alterations.
We retain the final right to approve or reject the refund of the Product. Refund or exchange of a Product will be subject to our evaluation.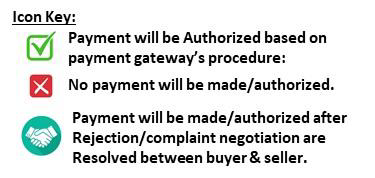 For more information, email support: marketplace@smarttradzt.com or our help center https://www.smarttradzt.com/faq-page/#section2.