Back
Leadership Team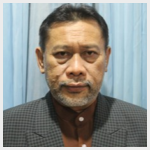 MF Hussin
Supply Chain Expert
Faudzi is a specialist in supply chain with over 35 years of experience in this domain and possesses deep expertise in logistics and maritime industry. He played a significant role in contributing his expertise in developing Smart Tradzt's innovations in Supply Chain solutions.
His last role before joining Smart Tradzt was as the Vice President (VP1) of Logistics Management and Operations with Sime Darby Plantations.
Faudzi is a well-respected Plantation / Agriculture / Supply Chain/ Chemical Industry veteran. His career spanned across multiple industries including with BASF-Petronas Chemicals, MISC and Evergreen (shipping industry).
At BASF-Petronas Chemicals, Faudzi was an Accredited Distribution Safety Advisor. He also won several Chemicals Industry Council of Malaysia (CICM) annual team awards.
Faudzi was involved in assisting Pahang State Development Corporation & MIDA trade missions to Japan & USA to attract foreign investors to the State
He graduated from Liverpool Polytechnic/John Moore University, England in 1984 with a Master Degree in Shipping & Maritime Studies