Back
Leadership Team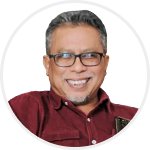 Osman Abu
Business Development Director
Osman has 30 years of working experience, first with MITSUI & Co. Ltd and later with PETRONAS. He held multiple leadership roles in numerous Sales and Marketing functions of Polymers, Specialties, Bulk chemicals, Fertilizers, Agricultural and Industrial commodities covering local and international markets.
He was also involved in Cross functional commercial excellence function in Business Improvement Process and Pricing Journeys in PETRONAS Chemicals covering the business Divisions of Olefin Derivatives, Polymers, and Fertilizers.
Noted for strong leadership, team building, motivational training and coaching. He was the Discipline Resource Person for sub skill group of Technology and Product support for PETRONAS.