Back
Leadership Team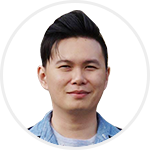 YH, Yeoh
Chief Technology Officer
YH Yeoh has more than 15 years of Software Development experience and 10 years in Pricing & Profitability Management experience.
YH is the Chief Technology Officer of Smart Tradzt corporation (formerly known as Acceval). He's currently overseeing the technical aspects of the company and leading the Software Development of Smart Tradzt. He's responsible in bringing in latest technology and tools that will help to strengthen the product capability, scalability and functionality. Smart Tradzt corporation is using many of the cutting edge technology and tools like AWS, Microservices Architecture, Containerization, SAP, among other things.
His project experience includes many companies in different sectors like DHL, Allianz Insurance, Hong Leong Bank, The Polyolefin Company, Sumitomo Chemical, Carlsberg, PETRONAS, Sanofi, Prime Minister Office, etc.