Back
Leadership Team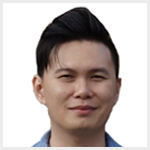 YH, Yeoh
Chief Technology Officer
YH Yeoh has more than 18 years of experience in Enterprise Software Design and Development, software architecture, cloud technology, including platform security and performance. In addition, he is responsible for evaluating and introducing leading technologies and tools that will help to strengthen the product capability and scalability.
YH also has extensive experience designing and enabling integration to various systems such as SAP, Salesforce, commodity price publication sources, etc.
His project experience includes companies in different sectors such as DHL, Allianz Insurance, UMW, Hong Leong Bank, The Polyolefin Company, Sumitomo Chemical, Carlsberg, Petronas, Sanofi, Prime Minister Office, Indian Oil, etc.
He is AWS Solution Architect - Professional and TOGAF Enterprise Architect certified.